Nims Daï is the fastest climber to have conquered 14 peaks over 8,000 meters in altitude. He was able to count on state-of-the-art equipment to achieve his records. Therm-ic products were part of his historic ascent of K2 in winter.
The ultimate challenge proposed to the best mountaineers on the planet, the ascent of K2 in winter was finally achieved less than two years ago. It was in January 2021 and the feat was signed by ten Nepalese, including the most illustrious of them Nims Daï, who specified a few days later to have achieved the ascent without the help of oxygen.
To reach the end of the second highest mountain in the world in the most difficult conditions, the 39 year old Nepalese mountaineer obviously faced extreme conditions, which he was able to endure thanks to perfectly chosen equipment. Among the partners who accompanied him on this adventure, Therm-ic was a key player. Since its creation in 1998, the brand has established itself as the historical expert in thermoregulation. First by inventing the heating system for ski boots, then by developing technical products for optimal thermoregulation.
For the record, it was Nims Daï himself who asked the brand for help a few months before his winter ascent of K2. The mountaineer was able to choose from the wide range of Therm-ic equipment, praising in particular the effectiveness of the heated gloves and mittens. "I used them a lot," he confirms. "I opted for two sizes larger than mine so that I could slip in warmers as well as undergloves. I also used the hand and foot warmers a lot, and I ended up putting them all in my gloves and not in my shoes to keep me warm all the time.
"Maintaining thermal comfort in my hands was absolutely vital because without good hand mobility, it became impossible for me to use the belay system. In this sense, without the heated gloves, I would have certainly died. You could say that they saved my life. All I had to do was press the "on" button to get warm whenever I felt my fingers start to freeze. These gloves provided the perfect balance of performance, comfort and practicality."
After his exploit on the K2 with his rope mates, Nims Daï came to the Grenoble countryside where the brand's offices are located to exchange with the Therm-ic teams. The opportunity to give his feedback on the products used in Himalaya. "He was very positive about the efficiency of the heating systems, despite the extreme conditions" explains Jérôme Gasser, Therm-ic's product development manager. "He also emphasized the quality of the products' construction, particularly in terms of their durability and reliability. After that, I wouldn't go so far as to say that we allowed the feat, we just accompanied it. All credit goes to him and his team. They were exceptional."
If Therm-ic products have satisfied a mountaineer of Nims Daï's reputation, there is little doubt that they will please skiers, snowboarders and amateur mountaineers this winter. "Our primary mission with Therm-ic is to offer thermal comfort to all mountain enthusiasts" confirms Jérôme Gasser. "It doesn't matter what altitude they are at, what their discipline is, or what season it is. Whether they are in the valley or on the roof of the world. In hiking, skiing or mountaineering. With Nims, we are going to start a process of co-development of products and technologies intended to be efficient in particularly extreme conditions, which cannot be found anywhere else.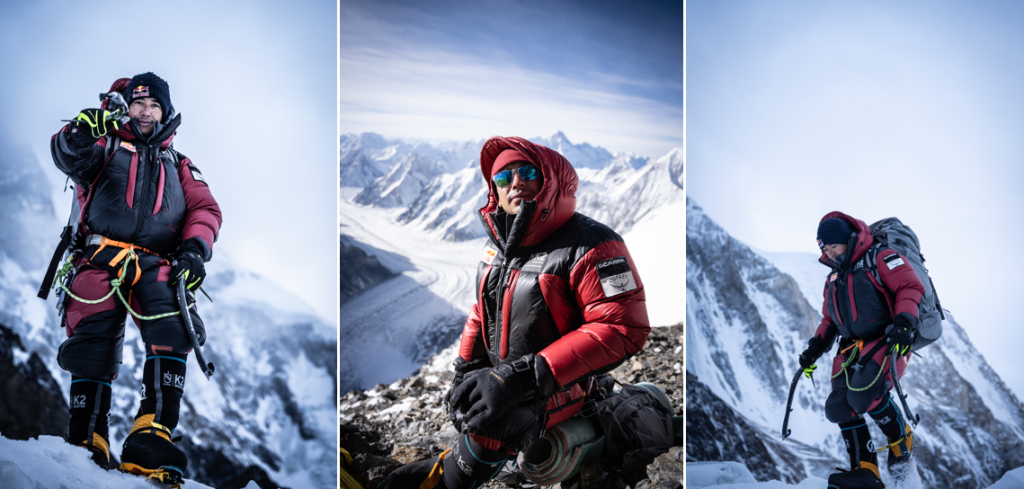 "Our first challenge is the evolution of our patented technology, the S.E.T (Smart Elastic Technology), which aims at a stretchy and imperceptible heating solution on first layers of clothing in order to promote the heat contribution to the body with the idea of an optimal thermal performance. Nims and his team will test it this winter! Starting in 2023, a choker and warmers will be unveiled. Each sale of these products will bring in one euro for the Nims Daï foundation, one of whose missions is the collection of waste from four emblematic summits, despoiled by human expeditions. In 2024, Therm-ic will release a specific range for mountaineering and expeditions in the Great Cold before unveiling in 2025 an expert range of heating solutions to develop efficient technologies adapted to all mountain practitioners.
While waiting to discover this new range elaborated with the Nepalese, you can equip yourself for the winter with Therm-ic products to be found on Private Sport Shop at this address.