In recent weeks, the French explorer has been in the Arctic attempting to become the first man to cross the Northwest Passage on a ski kite.
3,500 kilometers solo, temperatures approaching -70°C and an immense challenge never before met by man. A few weeks ago, French explorer Loury Lag embarked on an XXL adventure in the Arctic: to become the first person to successfully cross the Northwest Passage on a ski kite. Jack Wolfskin is a partner of this expedition called "Arctic Mission" and provides equipment to the explorer and his logistics and production team to help them survive in places where humans have no place. It is thus the Discovery range of Jack Wolfskin which will accompany the whole group. This collection has been specially developed for passionate people with a thirst to discover the most remote places of the world.
For Loury Lag, the challenge was immense. He had to face violent winds, melting ice, crevasses and polar bears. "Mission Arctic is my most atmospheric expedition," he explained before setting off. "14 months of preparation for just under 3 months of survival in one of the most hostile zones on the planet: the Arctic Ocean. It was essential for me to have equipment that was both highly technical and high-performance, but also durable. The environmental dimension is central to this expedition, since I'll be attempting to cross the Northwest Passage as the ice melts, and increasingly rapidly with global warming. We live to explore, and we're delighted to share these values and this adventure with Jack Wolfskin!"
On site, nothing was easy for the explorer, who posted news on his Instagram account as his adventures unfolded. After 32 days of expedition, his journey almost came to a screeching halt when a violent gust tore him from the ground and sent him flying." I see the fall coming and as I fall back, one of my skis gets stuck in a bump of snow formed by the storm. I hit the ground hard. A big shock. I try to get up and realize that I've hit my ribs, the pain prevents me from breathing as I stand up, my sail twists and starts to drag me for a few meters before I let go of the safety to avoid hitting it. My sail curls into a ball and starts to move backwards, too far. I realize after a few seconds that my second safety line isn't attached, and I'm going to lose my sail in the Arctic abyss."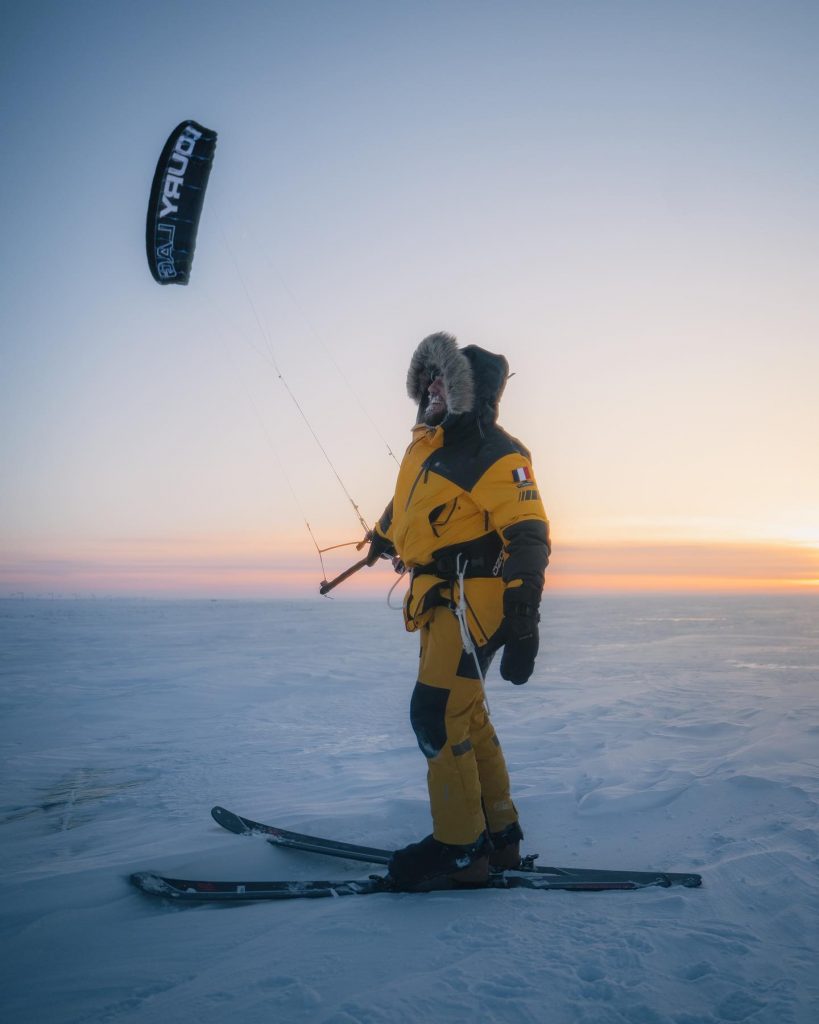 Then after 45 days on the spot, Loury even explains that he decides to change his strategy: "I abandon my kites and ski touring. I have to admit that the climate change has considerably slowed down my estimates. I'm in the low average of what I had imagined, the worst hypothesis. After having traveled more than 2,000 km hoping to have favorable conditions, I understand that they will not arrive but especially that they do not exist anymore. The east wind has destroyed my ambitions to complete the North West Passage by setting a record.
The adventurer continued his journey on the strength of his arms and legs alone, making 15 hours of effort a day, encountering bears (three specimens seen during his crossing of the pack ice), progressing with only one eye for four days due to a persistent stain, and struggling not to sink despite severe drops in energy. Finally, after 77 days and 3,000 km, Loury Lag reached the end of his adventure in the village of Taloyoak.
"The truth is that I came to try to achieve a record that I wouldn't do," he explains on Instagram. "The quest of my adventure today far exceeds the glory of titles. I've come here to face my fears. The fear of the passage of time, which brings us all face to face with an end. For some of us closer than others, I know something about that. I left full of hatred and violence, wanting once again to put myself in danger in order to confront my cowardice. The cowardice of accepting that I've spent my whole life surviving, fighting and cheating, with the sole aim of consuming life as much as possible, out of fear that it will come to an end. I've definitely got to change and leave behind who I was, who I don't want to be anymore. I'm going home to my family. I'm going to hold my father's hand as I bid him farewell, support my brothers and kiss my mother goodbye. I'm going to take the time, the time to live simply, to enjoy the people I love most in the world rather than consume time by risking my life."
Find all Jack Wolfskin products on Private Sport Shop.